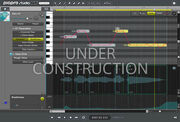 Piapro Studio NT was first released with Hatsune Miku NT.
Details of this version will continue to be released. A beta version on 4 June, 2020, was available for those who pre-ordered Hatsune Miku NT.[1] The full version of the software is expected in late August of 2020.
Singing synthesis research and development for Piapro Studio NT is conducted by the National Institute of Advanced Industrial Science and Technology (AIST). Their research conclusions were incorporated into Piapro Studio NT.
Resynthesis technology was used to construct the voicebanks. Consonants and vowels are specifically analyzed to avoid disruptions. The accent of each vocal can be manipulated. Piapro Studio for NT is available as a plug-in or a standalone editor. The pitch curve and waveform are visible in the editor.[2]
3.o.o.0 - 4 June 2020. Initial Prototype Release
3.0.0.1 - 17 June 2020. Bug fixes and improvements for the Direct Pitch Edit function.
3.0.0.5 - 30 June 2020. Update to the voice library, addition of natural waveform synthesis, and minor bug fixes.
3.0.0.7 - July 9, 2020. Beta vibrato function added.
Parameters
Edit
See this page.
References
Edit
Community content is available under
CC-BY-SA
unless otherwise noted.