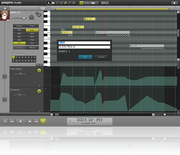 Piapro Studio was first released with KAITO V3.
About
[
]
It was originally supplied as an alternative to VOCALOID3 and allowed the use of KAITO's voicebanks (Straight, Soft, Whisper and English) without the need to own VOCALOID3 in addition to the release of his software.
It used the VOCALOID3 API as its means of synthesising results. Initially it was released only for the Crypton Future Media Vocaloids, but was later updated to allow all VOCALOID2 and VOCALOID3 to enter Piapro Studio. It cannot load VOCALOID4 vocals and later.
No major errors are encountered when cross referencing VOCALOID5, compared to the later Piapro Studio for v4x vocals.
Releases
[
]
Release notes
[
]
Hatsune Miku "Light" and "Vivid";
Piapro Studio was not included in the official VOCALOID3 releases of the Hatsune Miku V3 "Light" and "Vivid" vocals, but the two releases also did not include a VOCALOID engine either, not even the VOCALOID3 "lite" version.
The only way to purchase "Light" and "Vivid" alongside the Piapro Studio was via the early discounted release that Crypton Future Media Inc. offered. These downloads, however, were still a separate download from the other voicebanks and still did not include Piapro Studio itself with the two voicebanks.

The offer was open to those consumers who owned Hatsune Miku and Hatsune Miku Append and simply allow them to acquire the two missing vocals for free. In addition to these two releases, consumers had to purchase the Hatsune Miku V3 package and then had to register their products by mid-October 2013 with Crypton Future Media, inc.[1]
The vocals were downloadable until Feb 28th 2014.[2]

Piapro Studio and VOCALOID3, VOCALOID4 and VOCALOID5 will pick up these two vocals and register them for use.
Parameters
[
]
See this page.
Updates
[
]
v1.2.0; Any VOCALOID2[3] and VOCALOID3 voicebank can be imported into the program.
Videos
[
]
References
[
]